Health Canada is responsible for helping Canadians maintain and improve their health. It ensures that high-quality health services are accessible, and works to reduce health risks.
Public Health Agency of Canada
The Public Health Agency of Canada empowers Canadians to improve their health. In partnership with others, its activities focus on preventing disease and injuries, promoting good physical and mental health, and providing information to support informed decision making. It values scientific excellence and provides national leadership in response to public health threats.
Accreditation Canada is dedicated to working with patients, providers and policy makers to improve the quality of health and social services for all.
Health Standards Organization
HSO stands for Health Standards Organization. Formed in February 2017, our goal is to unleash the power and potential of people around the world who share our passion for achieving quality health services for all. We are a registered non-profit headquartered in Ottawa, Canada.
Mental Health Commission of Canada
The Mental Health Commission of Canada (MHCC) leads the development and dissemination of innovative programs and tools to support the mental health and wellness of Canadians. Through its unique mandate from the Government of Canada, the MHCC supports federal, provincial, and territorial governments as well as organizations in the implementation of sound public policy.
Association of Faculties of Medicine of Canada
Founded in 1943, the Association of Faculties of Medicine of Canada (AFMC) represents Canada's 17 faculties of medicine and is the voice of academic medicine in this country. Our member faculties graduate over 2,700 MDs per year; teach over 11,500 undergraduate medical students; train over 15,000 postgraduate trainees; employ nearly 48,000 full and part-time faculty members and undertake over 3 billion dollars of biomedical and health care research annually.
Canadian College of Health Leaders
The Canadian College of Health Leaders (CCHL), formerly known as the Canadian College of Health Service Executives (CCHSE), is a national, member-driven, non-profit association dedicated to ensuring that the country's health system benefits from capable, competent and effective leadership. 

College members come from every health sector and region in Canada and are at varying stages of their careers. Members include students, and health leaders who work in a variety of environments including medical companies, health authorities, health consultants, multi-level care facilities, hospitals, public and private health agencies, health charities, the Canadian military and all levels of the Canadian government. 
Fédération des communautés francophones et acadienne du Canada
Founded in 1975, FCFA represents 2.7 million Canadiens who speak French and live in a minority setting, in 9 provinces and 3 territories.
Canadian Association of Community Health Centres
The Canadian Association of Community Health Centres is the federal voice for Community Health Centres and community-oriented, people-centred primary health care across Canada. The association was established in 2012 to replace the previous Canadian Alliance of Community Health Centre Associations, which was first established in 1995.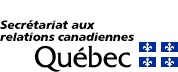 Secrétariat du Québec aux relations canadiennes
Le Secrétariat du Québec aux relations canadiennes (SQRC) relève de la ministre responsable des Relations canadiennes et de la Francophonie canadienne au sein du ministère du Conseil exécutif (MCE). Le SQRC conseille le gouvernement du Québec sur toute question ayant trait aux relations canadiennes. Il voit à la défense et à la promotion des intérêts du Québec au Canada. Il est responsable de la mise en œuvre de la Politique d'affirmation du Québec et de relations canadiennes rendue publique le 1er juin 2017.